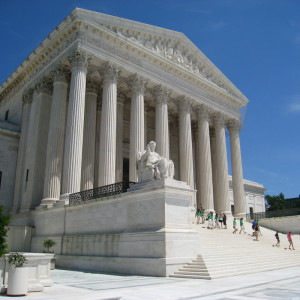 The sitting that everyone has been waiting for is upon us. The Court's December sitting contains the most talked-about case of the term: Masterpiece Cakeshop v. Colorado Civil Rights Commission. This case will put Justice Kennedy at the forefront of two somewhat conflicting ideals: non-discrimination and free speech/freedom of religion. Should Jack Phillips have been allowed to deny a request to make a custom cake for a same-sex couple because it violated his deeply held religious beliefs? Or was his exercise of his religion discrimination against the couple? Justice Kennedy has authored the three major LGBTQ-related Supreme Court decisions, Lawrence v. Texas, United States v. Windsor, and Obergefell v. Hodges. But, in Obergefell, he expressly stated that "those who adhere to religious doctrines, may continue to advocate with utmost, sincere conviction that, by divine precepts, same-sex marriage should not be condoned." He will have to decide how far that statement should be interpreted.
On the first day of the sitting, the Court will be knee-deep in patent law, specifically the inter partes review process of the Patent Trial and Appeal Board ("PTAB"). Oil States Energy Services argues that the entire inter partes review procedure is flawed because the PTAB is a non-Article III court and the patent challenges are not heard by a jury. Oil States argues that the absence of these two elements allows the PTAB to unconstitutionally extinguish private property rights. SAS Institute's challenge is narrower than Oil States. SAS Institute argues that the statute creating the PTAB says that a final decision should be rendered on all patent claims, and the PTAB's final decision on of only some of the relevant patent challenges contravened the statute. The Court will have to determine what Congress intended to achieve with the creation of the PTAB and if the current procedure effectuates congressional intent.
Next, on the second day of the sitting, the Court will tackle oral arguments surrounding the Securities and Exchange Commission ("SEC"). In Cyan, the Court will determine the jurisdiction of state courts over covered class actions. Congress enacted two different Acts trying to curb abusive class actions, but was not entirely clear on how much jurisdiction it left to the states. The Court will also look at the extent of the whistleblower provisions in Dodd-Frank to determine whether the protections extend to whistleblowers who only report violations to the company, and not to the SEC.
On the third day of the sitting, the Court will hear arguments on an extremely important privacy case. In Carpenter v. United States, the Court will decide whether the government can obtain the electronic location records data in a smartphone without a warrant. Do the location data fall under the third-party doctrine, like pen registers, or will the Court decide that the public has a reasonable expectation of privacy in the location data gathered by their smartphones? Whatever the Court decides, Carpenter will surely be added to canon of Fourth Amendment search and seizure jurisprudence.
In the second week of the sitting, along with Masterpiece Cakeshop, the Court will examine state sports betting statutes in light of anti-commandeering, a statutory provision requiring a percentage of attorneys' fees to be paid out of a civil award of a monetary sum, and an omnibus provision in the Internal Revenue Code that, if interpreted broadly, could mean that throwing away a business receipt could be considered felonious conduct.
This month, like October and November, includes cases that have been widely reported on by major mainstream media outlets. For example, The New York Times' podcast The Daily gave a run down of Carpenter on Monday. And with the creation of RadioLab's Supreme Court podcast More Perfect, more people than ever are up to date on the Court's blockbuster term and the implications of Supreme Court decisions. While Masterpiece Cakeshop and Carpenter are certainly the most talked about cases for the December sitting, it is important to examine the implications of the other, less well-known cases to be decided this term. Cases like Digital Realty Trust, if decided for petitioners, will mean that all whistleblowers will have to report violations to the SEC or they will not be protected by anti-retaliation statutes, but employees may not even know their rights without looking at Dodd-Frank. That decision, combined with a decision for petitioners in Epic Systems Corp. v. Lewis (mandating employee arbitration) could seriously narrow employees' rights in the workplace and give more power to corporations, who are already heavily protected entities in our legal system. At On the Docket we endeavor to provide you with key information on the implications of not just the major cases of the term, but about cases that may not seem at first glance as though they will have a noticeable impact.
November 27
---
Oil States Energy Services v. Greene's Energy Group
No. 16-712; Fed. Cir.
On Monday, the Supreme Court will hear two different cases regarding the adjudication process of the Patent Trial and Appeal Board ("PTAB"). In 2012, as part of the America Invents Act, Congress created the PTAB within the United States Patent and Trademark Office. The PTAB offers parties the opportunity to challenge patents under inter partes review ("IPR"). IPR is an adjudicative process where the PTAB first decides whether the full patent will be reviewed, and if so, considers whether the claims are patentable or whether the patent should be invalidated on the ground that it is already in use in another patent.  The PTAB then issues a final decision on which claims are unpatentable and which claims are patentable. That decision may be appealed to the Federal Circuit. Oil States Energy Services argues that this new process allows a non-Article III forum without a jury to extinguish private property rights in violation of the Constitution.
Oil States manufactures a solution that protects wellhead equipment. The corrosive nature of hydraulic fracturing fluid combined with the high pressures at which it is pumped into a well can cause damage to the equipment used at the wellhead if the wellhead is continuously exposed to the fluid without some kind of protection. The patents at issue both provide a solution by using a protective tube that locks after it is inserted into the wellhead. By locking in the protective tube, there is an adequate seal even where the fluid pressure fluctuates. Thus, the wellhead and the pipe casing are protected from the abrasive fluid.
Oil States filed a patent infringement suit against Greene's Energy Services in a Texas district court. The court found that Oil States' patent was distinct from Greene's patent. Greene's sought IPR and the PTAB ended up invalidating Oil States's patent on the grounds that it was "anticipated" by Greene's patent application. Oil States moved to amend its patent to clarify the technical descriptions, but the PTAB denied the motion. Oil States appealed to the Federal Circuit, arguing that IPR violates Article III and the Seventh Amendment because the process extinguishes private property rights in a non-Article III forum and the forum proceeds without a jury.
Should the Court rule in favor of Oil States the result would invalidate the entire IPR process. This would bring back exactly what Congress was trying to avoid: the lengthy and costly patent infringement litigation that could disincentivize businesses from applying for new patents because of the fear of the adversarial process. Further, the government argues that IPR is not as abrupt a shift as Oil States makes it out to be and that patents have always been part of administrative procedure due to the fact that they are granted by an administrative agency. On the other hand, is Congress allowed to legislate around judicial authority just because it doesn't like the process?
SAS Institute v. Matal
No. 16-969; Fed. Cir.
Patents are immensely important in society because they protect inventors from having ideas and processes stolen, which in turn "promote[s] the Progress of Science and useful Arts." U.S. Const. art. 1 § 8, cl. 2. Because of this importance, there are often changes made to existing laws and procedures that attempt to further this protection. The Court's second patent case also deal with the Patent Trial and Appeal Board ("PTAB"). The PTAB streamlines the patent challenge process and allows an individual to challenge the validity of an existing patent through a process known as inter partes review ("IPR"). IPR is an adjudicatory process where the PTAB first decides whether full review of the patent is warranted. If the PTAB decides that full review is necessary, the second step is for the PTAB to conduct that full review and issue a written decision. All PTAB decisions can be appealed to the United States Court of Appeals for the Federal Circuit, which is the only appellate court with jurisdiction to hear patent cases. While using the PTAB's process is not the only way that a patent can be challenged, it has proven to be a popular method.
In 2006, ComplementSoft, LLC obtained U.S. Patent No. 7,110,936 (the "'936 patent"). The '936 patent was for generating and maintaining source code that allows users to "develop, edit, and debug software for a particular programming language." SAS Inst. Inc. v. ComplementSoft, LLC, 825 F.3d 1341, 1346 (Fed. Cir. 2016). SAS Institute Inc. ("SAS") filed for IPR, arguing that all sixteen of the '936 patent's claims were unpatentable. SAS argued that the patent included elements that were prior art, meaning that the patent utilized designs already in use and therefore could not be patented by ComplementSoft, LLC. The PTAB initiated review on some, but not all, of the patent's claims and ruled that "claims 1, 3, and 5–10 of the '936 patent were unpatentable as obvious in view of the prior art." SAS Inst. Inc. v. ComplementSoft, LLC. The PTAB found that claim 4 was patentable.
SAS appealed the PTAB's ruling because the PTAB only reviewed some of the patent's claims—the ones that the PTAB deemed "substantial"—which SAS argued directly contradicted the federal statute relating to decisions by the PTAB. The statute states that "[i]f an [IPR] is instituted and not dismissed under this chapter, the [PTAB] shall issue a final written decision with respect to the patentability of any patent claim challenged by the petitioner . . . ." 35 U.S.C. § 318 (2012). As SAS challenged all of the patent's claims, and the PTAB did not issue a final written decision on all of the claims, SAS argued that the patent review and final decision was incorrect.
On appeal to the Federal Circuit, a divided panel upheld the PTAB's decision based on a 2016 Federal Circuit decision that stated the PTAB need only issue a final written decision on the claims for which review was granted, and the claim-by-claim approach the PTAB took was not in violation of the federal statute. Judge Newman, who dissented in the 2016 decision, again dissented here arguing that the claim-by-claim approach is ineffective and defeats the purpose of the PTAB to efficiently rule on the validity of a patent so that other inventors know whether they can base new items on that patent. The Supreme Court agreed to hear SAS's challenge to determine, essentially, whether "any patent claims" as written in 35 U.S.C. § 318(a) means"all."
November 28
---
Cyan, Inc. v. Beaver City Employees Retirement Fund
No. 15-1439; Cal. Ct. App.
In 2013, Cyan filed an IPO and began trading stock on the New York Stock Exchange. The results were grim and shareholders sued in California Superior Court as a class alleging violations of the Securities Act of 1933 ("'33 Act"), but not alleging any state-law claims.
In two Acts, Congress has attempted to curb abusive class-action litigation based on securities violations. First, in 1995, Congress enacted the Private Securities Litigation Reform Act ("PSLRA"), which amended federal securities laws to impose new class requirements like fee limitations, selection criteria for lead plaintiffs, and automatic stays of discovery pending any motion to dismiss. Second, in response to classes running to state courts, Congress enacted the Securities Litigation Uniform Standards Act ("SLUSA"), which amended the 33 Act and put limits on state court subject matter jurisdiction. Specifically, the Act allows concurrent state claims to continue except as provided by Section 16, which precludes covered class actions (any damages actions on behalf of more than 50 people) alleging state-law securities claims and permits the action to be removed and dismissed in federal court. Now, parties are asking the Court to clarify whether jurisdictional provisions in the SLUSA bar state courts from hearing mixed class and federal class actions or only mixed class actions.
These two statutes have created much confusion in federal district courts. Cyan's petition for certiorari notes that "39 [federal district court decisions hold] that state courts have subject matter jurisdiction and 10 [hold] that state courts lack subject matter jurisdiction."
The Court is now charged with interpreting the statutes. The shareholders argue that it would be too broad of an interpretation to say that the statute bars state courts from hearing all Section 16 covered actions. Cyan argues that Congress had a clear intention to curb class actions, and if the statute is only interpreted as barring mixed actions then it doesn't live up to its congressional purpose. Whatever the Court decides, it will hopefully help cure the current "chaos" in federal district court.
Digital Realty Trust, Inc. v. Somers
No. 16-1276; 9th Cir.
In a case sure to garner the attention of corporate compliance departments, Digital Realty Trust will shed some light on the scope of Dodd-Frank's protections for whistleblowers. In a reaction to the misdeeds at play during the 2008 financial crisis, Congress enacted Dodd-Frank in 2010 as its toughest regulatory measure on Wall Street yet. The legislation created a whistleblower program that awarded individuals who reported any number of corporate violations. To date, the program has paid out over $154 million to whistleblowers. Importantly, the statute includes an anti-retaliation provision that prohibits employers from retaliating against whistleblowers. The question at issue in Digital Realty Trust is whether the anti-retaliation provision protects employees who do not report violations to the Securities and Exchange Commission ("SEC"). There is a circuit split which the Court has been called on to resolve.
In this particular case, Digital Realty Trust maintained its own code of ethics requiring employees to disclose wrongdoings internally. After the company's Vice President did just that—disclosed possible securities violations to senior management—Digital promptly fired him. The Northern District of California, citing a 2011 SEC rule that redefined the statute to include protections for those reporting internally, ruled that the Vice President should have been protected. The Ninth Circuit affirmed the lower court's decision and reliance on the 2011 SEC rule.
The statutory text defines a whistleblower as an "individual who provides . . . information relating to a violation of the securities laws to the Commission." The Dodd-Frank Wall Street Reform and Consumer Protection Act, Pub. L. 111-203, 124 Stat. 1376 (2010). Digital Realty Trust argues that this statute is unambiguous, as it very clearly only applies to individuals reporting to the SEC. Although they are likely correct, the 2011 SEC rule that the lower courts pointed to did, in fact, attempt to extend the statute to provide coverage for those who only report internally. Digital Realty Trust, however, argues that the SEC violated the Administrative Procedure Act when it published this rule without providing fair notice to the public. Thus, DigitalRealty Trust claims, the Court should follow the plain language of the statute and disregard the rule's clarification.
If the Court does find in favor of Digital Realty Trust and holds that the anti-retaliation provision only extends to those individuals who reported violations to the SEC, there is a concern in the corporate world that the role of compliance departments will be largely weakened. One law firm partner, in a Law360 article, darkly suggested, "If the Supreme Court decides in favor of Digital, corporate compliance programs will be dead, and their reputations forever tarnished." Stephen Kohn, Digital Realty Trust v. Somers May Kill Corporate Compliance, Law360 (Sept. 21, 2017 1:14 PM), https://www.law360.com/articles/964208/digital-realty-trust-v-somers-may-kill-corporate-compliance.
November 29
---
Carpenter v. United States
No. 16-402; 6th Cir.
Under longstanding Fourth Amendment principles, when a person willingly gives information to a third party, she loses an expectation of privacy in that information. Demands for such information therefore do not constitute "searches" within the meaning of the Fourth Amendment. Should the rule apply to smartphone data that can automatically transmit its owner's location? In the most significant Fourth Amendment case on the Court's docket this term, the Court will answer that question and potentially limit the breadth of the third-party doctrine.
The information at issue in Carpenter, called "cell site location information" ("CSLI"), records a cell phone's location based on its connections to nearby cell towers to route calls and data. In urban areas, where cell towers are more densely packed, CSLI can pinpoint a phone's location with greater precision. Moreover, as smartphone capabilities have multiplied, the volume of connections that they make has increased in turn.
Timothy Carpenter was convicted for his role in a series of armed robberies based in part on CSLI information obtained from his cell phone over a six-month period. Under the Stored Communications Act, 18 U.S.C. § 2703, the government applied for and obtained an order compelling Carpenter's phone service provider to turn over the records based on "specific and reasonable facts to believe" the records were "relevant and material to an ongoing criminal investigation." Carpenter moved to exclude the evidence on the grounds that the acquisition of the records constituted a search for which the government lacked probable cause. The district court denied the motion. The Sixth Circuit affirmed, invoking the third-party doctrine to conclude that acquisition of CSLI records did not constitute a search.
The Court has traditionally defined a search as a government action that invades a reasonable expectation of privacy. See Katz v. United States, 389 U.S. 347 (1967) (Harlan, J., concurring). The third-party doctrine emanates from that definition. In Smith v. Maryland, 442 U.S. 735 (1979), the Court held the use of a pen register to record the numbers a person dialed did not constitute a search because a person cannot reasonably expect to keep private numbers it voluntarily transmitted to a phone company. The government argues that Smith is controlling and prevents Carpenter from claiming a privacy interest in location data he transmits to his phone company.
Carpenter argues that CSLI is different from the data at issue in Smith. Given the great variety of tasks for which people have come to use smartphones, he argues, location data can provide the government a detailed and intrusive look into a person's intimate affairs. Additionally, the Court recently recognized that smartphones pose unique Fourth Amendment concerns. In Riley v. California, 134 S. Ct. 2473 (2014), the Court required police to obtain a warrant before searching the contents of a smartphone due to the extensive volume of personal information the device contains.
Moreover, in United States v. Jones, 565 U.S. 400 (2012), the Court articulated a different test for a Fourth Amendment search based on unlawful trespass. There, the Court found the government had conducted a search when it attached a GPS device to a car and collected location coordinates over an extended period. Carpenter argues that the government's use of CSLI is analogous to GPS tracking and therefore constitutes a search under the Fourth Amendment. The government replies that Carpenter failed to preserve this argument in the court of appeals, but argues that the case is distinguishable in any event because CSLI does not produce location data as precise as GPS coordinates.
Should the Court decide that the collection of CSLI constitutes a search, it will then have to decide whether such searches require a warrant. The Court could resolve that question on its own or remand to the Sixth Circuit. Still, those with interest in the Fourth Amendment—privacy advocates and law enforcement officials alike—will be interested to see how the Court resolves the threshold question.
December 4
---
Christie v. National Collegiate Athletic Association
No. 16-476; 3d Cir.
In a highly anticipated case this term, Christie v. NCAA could radically change the legality of sports betting throughout the United States. The history of this case spans back to 1992 when Congress enacted the Professional and Amateur Sports Protection Act ("PASPA"). PASPA banned sports betting in forty-six states, exempting four states—Nevada, Delaware, Oregon, and Montana—that had already adopted sports betting practices at the time of enactment. PASPA also included a provision exempting New Jersey, provided that the state enact a sports betting scheme within one year of enactment. New Jersey failed to enact a sports betting scheme within one year; instead, it waited twenty years.
In 2012, following pressure from residents and under the leadership of Governor Chris Christie, New Jersey attempted to legalize sports gambling by expressly authorizing sports betting at casinos and race-tracks in the state. The rationale, provided by New Jersey leaders including Senator Menendez, was that sports betting occurs regardless of its legalization; if legalized, however, New Jersey could collect revenue on it and protect against the dangers of black-market sports betting. Governor Christie argued that legalization would greatly benefit the state, as it would allow New Jersey to collect millions of dollars in revenue and taxes. The 2012 law failed in the courts but New Jersey enacted a similar, albeit less direct, law in 2014. This second law, rather than explicitly authorizing sports betting, repealed New Jersey's prohibition on sports betting. The district court granted summary judgment in favor of the sports leagues challenging this law. A divided Third Circuit affirmed, and then an en banc panel affirmed the majority. The Supreme Court, surprisingly to some, granted certiorari.
The constitutional question before the Court is whether PASPA violates the Tenth Amendment—specifically, whether it violates the anti-commandeering doctrine. If the Court finds PASPA unconstitutional, then New Jersey and all other states would be free to authorize sports gambling.
The anti-commandeering doctrine, originating from several Supreme Court decisions interpreting the Tenth Amendment, limits the federal government's ability to coerce state officials into adopting a particular regulatory scheme or administering federal law. The respondents—the NFL, NBA, MLB, NHL, and NCAA—assert that PASPA is constitutional because it does not force New Jersey to do anything as it only prevents New Jersey from actively legalizing sports betting. In effect, PASPA is passive, and the anti-commandeering doctrine focuses on the active nature of a federal law, they say. New Jersey disputes this interpretation of the anti-commandeering doctrine; as a practical matter, PASPA has the same effect on New Jersey, whether it is active or passive.
Cases relying on the anti-commandeering doctrine tend to fall along party lines, so all eyes will be on Justice Kennedy—the usual swing vote. Seeing as state representatives in several other states have already proposed legislation legalizing sports betting, New Jersey will hardly be the only state interested in the outcome of this case.
Rubin v. Islamic Republic of Iran
No. 16-534; 7th Cir.
How do you get justice against the Iranian government in an American court? In recent years, Congress has provided more avenues for families of terror victims to collect on judgments against nations that sponsor terrorist attacks. In Rubin v. Islamic Republic of Iran, the Court will decide whether those statutory avenues for collecting on judgments allow petitioners to attach the judgment to and seize precious Iranian antiquities.
The petitioners' suit arises out of a 1997 suicide bombing, sponsored by Iran, of a pedestrian mall in Jerusalem. In 2003, the District Court for the District of Columbia awarded plaintiffs $71.5 million in damages. After Iran failed to pay, the petitioners sought to collect on the judgment in the Northern District of Illinois, seeking to attach the judgment to Persian artifacts belonging to Iran and housed at the Field Museum of Natural History and the University of Chicago's Oriental Institute.
The case turns on the interpretation of a provision of the Foreign Sovereign Immunities Act ("FSIA"). In 2008, Congress amended FSIA to include a terrorism-related exception to foreign sovereign immunity. See 28 U.S.C. § 1610(g) (2012). Petitioners contend that § 1610(g) is a freestanding exception that allows creditors to attach property regardless of whether it meets another exception in the FSIA. The district court rejected their argument, holding that the provision allows plaintiffs to attach the property of a terrorism sponsor's agents or instrumentalities, but only if the property meets the criteria of a separate statutory exception to foreign sovereign immunity. The Seventh Circuit affirmed, creating a split with the Ninth Circuit, which had held that § 1610(g) does create a freestanding exception enlarging plaintiffs' ability to attach the property of foreign sovereigns in terrorism-related cases. See Bennett v. Islamic Republic of Iran, 825 F.3d 950 (9th Cir. 2016).
As might be expected for a question of statutory interpretation, the parties' arguments boil down to dueling assertions about the statutory text, its purpose, and legislative history. Petitioners argue that Congress intended to except all property of state sponsors of terrorism from sovereign immunity, and the law should be construed expansively to achieve its purpose. Moreover, because the law only applies to the handful of nations listed by the State Department as sponsors of terrorism, petitioners argue that the interests of terrorism victims should outweigh international comity concerns.
By contrast, Iran reads § 1610(g) to be far narrower in scope. Iran hones in on the language in the statute allowing attachment "as providing in [section 1610]" to show that the intent was for § 1610(g) to attach to the other exceptions in § 1610. Iran argues that, while the provision allows plaintiffs to reach the property of foreign sovereigns, they may only do so if the property fits under a separate statutory exception to immunity, such as the exception for property involved in commercial activity. Additionally, Iran argues that petitioners' reading of the provision as a freestanding separate exception to sovereign immunity would render the amendments that Congress made to the existing exceptions when it enacted § 1610(g) surplus. Moreover, Iran argues, Petitioners' expansive reading would run against the typically restrictive construction of exceptions to foreign sovereign immunity and violate international standards, which limit exceptions to foreign sovereign immunity to commercial property.
The case places the United States in a delicate position between the victims of Iran-sponsored terrorism and other nations concerned about the ramifications of a decision subjecting Iran's U.S.-based property to attachment. In any event, fears about possible international blowback appear to have won out: the government has filed an amicus brief in support of Iran's position.
December 5
---
Masterpiece Cakeshop, Ltd. v. Colorado Civil Rights Commission
No. 16-111; Colo. App.
Likely the most talked about case this term, Masterpiece Cakeshop will finally be heard. Most major news outlets have covered the case extensively in the run up to oral arguments; here at GW Law, we held a panel where scholars discussed the arguments.
To remind readers, the legal question underlying the case is "Whether applying Colorado's public accommodations law to compel the petitioner to create expression that violates his sincerely held religious beliefs about marriage violates the free speech or free exercise clauses of the First Amendment."
The Colorado Anti-Discrimination Act ("CDA") provides that "it is a discriminatory practice and unlawful for a person, directly or indirectly, to refuse, withhold from, or deny to an individual or a group, because of disability, race, creed, color, sex, sexual orientation, marital status, national origin, or ancestry, the full and equal enjoyment of the goods, services, facilities, privileges, advantages, or accommodations of a place of public accommodation . . . ." CDA § 24-34-601.
Jack Phillips, owner of Masterpiece Cakeshop, declined to create a custom cake to celebrate a same-sex marriage based on his religious beliefs, but offered other cakes for the couple to purchase. After he declined to create the custom cake, the Colorado Civil Rights Commission ordered that he must create custom cakes for same-sex marriages if he intends to continue creating custom cakes for opposite-sex marriages. Mr. Phillips appealed to the Colorado Court of Appeals.
Mr. Phillips argued that he did not discriminate against the same-sex couple when he declined to make them a custom cake because he did so based on his First Amendment freedom of religious expression, and to force him to create cakes against his religious beliefs unlawfully compels speech. The Colorado Court of Appeals rejected his arguments and held that he violated the CDA by discriminating against the same-sex couple when declining to make a custom cake. The court also held that the Civil Rights Commission did not compel his speech by ordering him to create custom cakes for same-sex marriages, and that the CDA does not violate the First Amendment freedom of expression clause.
During GW Law's Panel Previewing the 2017 Term, Ms. Sherrilyn Ifill of the NAACP brought up an interesting historical point about this case that we feel is worth repeating. In Newman v. Piggie Park,  the owner of Piggie Park barbeque argued that he should be allowed to curtail service to African-Americans because his special recipe was his artistic expression and it was against his religious beliefs to serve African-Americans. Similar to Mr. Phillips, he allowed African-Americans to be served from a back window, but would not allow them into the shop because it was against his religious belief. She reminded the audience that "religion was very often the rationale that was offered by segregationists and others as a reason for why they would not serve African-Americans." Will the Court agree that denying to create a custom cake for a same-sex couple should be interpreted the same way as curtailing service based on race was in Piggie Park? Does same-sex marriage have more of a grounding in religion than race? Racial discrimination has always received strict scrutiny judicial review, but sexual orientation has not.
On the other hand, it is well-documented that Mr. Phillips truly denies business when it goes against his religious beliefs. Mr. Phillips declines to make cakes containing alcohol or celebrating Halloween also based on his deeply-held religious beliefs. As GW Professor Jonathan Turley noted in our panel, this case represents the culmination of the collision course between discrimination laws and free speech, and the Court will either have to thread the needle between the two or come down in favor of either discrimination or free speech. To complicate matters more, Justice Kennedy, as always, will likely be the swing vote. This is a tough position for him to be in because he has been a big proponent of free speech; yet he has also been a Supreme Court beacon for expanding the rights of the LGBTQ community, writing the decisions in Lawrence v. Texas, United States v. Windsor, and Obergefell v. Hodges, where he explicitly held that "those who adhere to religious doctrines, may continue to advocate with utmost, sincere conviction that, by divine precepts, same-sex marriage should not be condoned." He will now have to decide to what degree he intended that holding to be interpreted.
December 6
---
Murphy v. Smith
No. 16-1067; 7th Cir.
Under 42 U.S.C. § 1997e, when a prisoner brings a successful civil rights lawsuit and is awarded a monetary sum, a portion of that sum, not to exceed twenty-five percent, is supposed to be used to satisfy any attorneys' fees that may have been awarded to the plaintiff's lawyers. The question currently creating a split among the circuits is what "not to exceed twenty-five percent" of the award means—whether it means up to 25% or exactly 25%.
Charles Murphy was a prisoner at the Vandalia Correctional Center in Illinois. On July 25th, 2011, he reported a mess at his assigned seat and was told to clean it up and leave the dining area. He was handcuffed and escorted into a segregation unit. Upon arrival, Murphy ignored officers' inquiries about where he normally resided. The officer repeatedly inserted his finger into Murphy's ear asking him if he was deaf. Then, Murphy was escorted by three officers and was taunted by another about what would happen next time his handcuffs came off. The officer hit Murphy in the eye, applied a chokehold, and Murphy passed out. While unconscious he was pushed into a cell.
Thirty minutes later, a nurse checked on Murphy. The orbital rim of his eye was crushed and required surgery. He did not completely recover and continues to have doubled and blurred vision. Murphy sued both the officer who hit him and another officer, and a jury returned a verdict for Murphy of $307,733.82. The District Court also awarded attorneys' fees and indicated that ten percent of the verdict must be applied to those fees.
One of the issues reviewed on appeal was whether the District Court was proper in deciding that it had discretion to determine what percentage of the verdict was to be applied toward the attorneys' fees. 42 U.S.C. § 1997e(d)(2) states that "[w]henever a monetary judgement is awarded in an action . . . a portion of the judgment (not to exceed 25 percent) shall be applied to satisfy the amount of attorney's fees awarded against the defendant."
The Seventh Circuit cited a previous en banc ruling in which it decided that the amount awarded was not discretionary and that the full twenty-five percent must be first be applied from the verdict before the defendant can be required to contribute more. See Johnson v. Daley, 339 F.3d 582, 585 (7th Cir. 2003) (en banc). The Second, Third, Sixth, and Eighth Circuits, however, have held that the phrase "not to exceed 25 percent" means any amount up to twenty-five percent will suffice. The Supreme Court has agreed to hear this case and determine which reading of the statute is correct.
Marinello v. United States
No. 16-1144; 2nd Cir.
The Internal Revenue Code provides that "whoever corruptly or by force . . . endeavors to intimidate or impede any officer . . . of the United States acting in any official capacity under this title or in any other way corruptly or by force . . . endeavors to obstruct or impede[] the due administration of this title, shall, upon conviction thereof, be fined not more than $5,000 or imprisoned not more than 3 years or both." 26 U.S.C. § 7212(a). The circuit courts have interpreted the statutory language in different ways. The majority of circuits, namely the First, Second, Ninth, and Tenth, hold that a defendant may be guilty even if he has no knowledge of a pending IRS action or investigation against him, or even if there is no pending action or investigation against him. The Sixth Circuit requires the government to prove that a defendant obstructed a pending IRS action or investigation about which he had knowledge.
Mr. Marinello owned and operated a freight service business in New York that shipped items between the United States and Canada. For almost twenty years, Mr. Marinello failed to keep business records or file corporate or personal income tax returns. Unbeknownst to Mr. Marinello, the IRS began investigating him in 2004, but closed the investigation because it could not determine whether the income that went unreported was significant. The IRS reopened its investigation in 2009, and during an interview, Mr. Marinello admitted his failure to file tax returns, his mingling of business and personal income, and his destruction of bank statements and business records. He was charged and convicted on nine counts, including one count under 22 U.S.C.§ 7212(a). Mr. Marinello appealed to the Second Circuit, arguing that the government did not prove the requisite knowledge under § 7212(a).
Mr. Marinello argues that the interpretation of the First, Second, Ninth, and Tenth Circuits that removes a requirement for the government to prove knowledge of an IRS action or investigation is too broad. He argues that this interpretation turns the provision into a general prohibition on any conduct that hinders the IRS in any way. For example, Mr. Marinello argues that even "throwing away a business receipt" could be considered felonious conduct because it would obstruct the IRS's ability to assess or collect taxes. The Second Circuit argued that the absence of proving knowledge would not broaden the statute because the government still had to prove that the defendant acted corruptly. Mr. Marinello argues that the Supreme Court should accept the Sixth Circuit's interpretation because it is in line with prior decisions. The Court already recognizes the need to "exercise restraint in assessing the reach of a federal criminal statute . . . .," e.g., United States v. Aguilar, 515 U.S. 593, 600 (1995), and has cabined other statutory "catchall" provisions. The government argues that the plain language of the statute does not state that an IRS proceeding or investigation must be underway when a defendant acts corruptly, thus there should not be a knowledge requirement.
The Court in recent years has rejected overbroad obstruction of justice statutes, likely to protect defendants from an abuse of prosecutorial discretion. While it is assumed that prosecutors will bring obstruction of justice charges against defendants who really obstruct justice, the Court has shown that it is concerned with the potential for these omnibus provisions to attach to much more than Congress intended. Mr. Marinello's case will be added to the growing line of jurisprudence related to this issue, and it will be interesting to see whether the Court applies its reasoning from prior decisions, or decides that the majority of the circuits are correct.