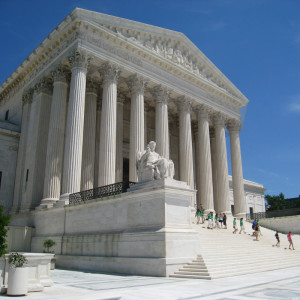 So far in 2017, the branches of government are moving at high speed—and the judiciary is no exception. February could be one of the last months with the Supreme Court as an eight-Justice bench. The Justices are using their remaining time before inducting a new member to take on issues relating to, inter alia, officer immunity, immigration, statutory interpretation, the First Amendment, and mandatory sentencing.
Regarding immigration and officer immunity, the Justices will decide whether the Fourth and Fifth Amendments applied to a victim located in Mexico but shot by a Border Agent in the United States. The case, Hernandez v. Mesa, also deals with the hot-button issue of officer use of deadly force. As is common with deadly force cases, the facts are murky, thereby making the issue even more contentious. With relations between Mexico and the United States currently on tenterhooks, the outcome of this case is an important one to watch.
Another immigration case, Esquivel-Quintana v. Sessions, asks whether a unique California criminal provision is an aggravated felony. If it is, the petitioner faces deportation. This case arises from the application of two doctrines of legal interpretation—Chevron deference and the rule of lenity—and which is properly applied when reviewing ambiguous criminal statutes. If Chevron deference applies, courts will continue to defer to the Board of Immigration Appeals's discretion and Mr. Esquivel-Quintana will be expelled from this country. If the rule of lenity applies, deference shifts to the defendant facing deportation. The holding of this case could mark an astounding shift in administrative law. This case could reach to any ambiguous criminal statute in which the executive agency typically uses Chevron to interpret its regulations, and any criminal defendant hoping to use the rule of lenity to combat agency overreach.
North Carolina brings a case for which many legal scholars have been waiting: the extent to which the use of social media qualifies as "speech" protected by the First Amendment. The Petitioner used Facebook, and by doing so violated a North Carolina law that prohibits registered sex offenders from using social networking sites frequented by minors. Does the North Carolina law actually criminalize expressive conduct? Or is the law appropriate based on the potential harms present? The holding could reach beyond criminal provisions and as far as deciding the difference between speech and conduct on social media.
These cases and the others on this month's calendar show that the Justices may be getting more comfortable deciding controversial cases as an eight-Justice group. The ever-changing Chevron doctrine, mandatory sentencing, across-the-border rights, and free speech are all topics that have preconceived ideological notions. It will be interesting to see which, if any, Justice crosses his or her perceived political line to break the tie.
These and other cases being argued this month are detailed below. On the Docket has researched the parties' court filings, summarizing the factual and procedural history of each so that readers may acquaint themselves with the cases before they are argued. As always, don't forget to check back when opinions are handed down for in-depth analysis of decisions from many of the most brilliant legal minds in the relevant field!
February 21
---
Hernández v. Mesa
No. 15-118; 5th Cir.
Popular wisdom holds that the Supreme Court has filled its docket with largely uncontroversial, heavily procedural cases since the passing of Justice Scalia created a stalemate between the Court's equally-matched liberal and conservative wings. Hernández v. Mesa forms a powerful counterexample for those that would dispute that the Justices would take such baldly political considerations into account when identifying cases in need of resolution. Indeed, one is hard-pressed to imagine a more politically-charged case in the context of recent events. Amidst historic protests and legal battles over the new administration's hardline immigration policies, at a time when relations between Mexico and the United States have been strained to near breaking by the U.S. President's promise to build a massive border wall at Mexico's expense, the Supreme Court will decide whether U.S. courts may entertain a constitutional claim against a Border Patrol agent who shot across the border and killed an allegedly unarmed Mexican teenager.
Unsurprisingly, there is little agreement as to what actually transpired on June 7, 2010 on the border between El Paso, Texas and Juarez, Mexico. The parents of fifteen-year-old Sergio Hernández claim that he and other boys were playing in the then-dry cement culvert through which the Rio Grande often flows, separating the two nations. The parents claim that the boys were taking turns daring each other to run across the invisible border at the bottom of the culvert and up the opposite bank to touch the fence located in U.S. territory. They assert that Border Patrol agent Jesus Mesa drew his firearm without provocation and shot Hernández in the head after he had run back into Mexican territory, instantly killing him. Mesa disputes most aspects of this account, pointing to the subsequent Department of Justice investigation that cleared him of criminal charges. The investigation found that Hernández and the others were immigrant smugglers who had begun to throw rocks at Mesa at close range after he foiled an attempted border crossing by apprehending one of their number in U.S. territory. Mesa contends that he acted in reasonable self-defense under the circumstances.
Because the present controversy arose early in the trial on a motion to dismiss the claim, the disputed factual details are ostensibly immaterial at this stage, and the Court must regard the parents' version of events as true. Instead, the Court will decide whether any relief may be granted to the parents for Mesa's alleged violation of the Fourth and Fifth amendments even should their story prove completely accurate. They face three primary obstacles. The first, and perhaps most significant to the broader shape of constitutional law, is whether Hernández had any Fourth or Fifth Amendment rights to violate. The U.S. constitution's application outside the borders of the United States is a complex question without many simple answers. In some cases, the Court has held that the Constitutional protections at issue extend to only "U.S. Persons," including both U.S. Citizens and those non-citizens who have sufficient voluntary contacts with the United States. A Mexican citizen therefore has no grounds to assert a Fourth Amendment violation based on conduct that occurred entirely in Mexico, as held in Verdugo-Urquidez v. United States. In other contexts, however, the Court has adopted the functionalist analysis famously championed by Justice Harlan in 1957's Reid v. Covert. Under this approach, courts consider the particulars of the situation and extend protections to the greatest degree practical under the circumstances. This analysis was at the heart of the Court's landmark Boumediene v. Bush decision, in which it held that captives detained at the Guantanamo Bay military base had a right to challenge their status as enemy combatants in U.S. courts.
Even should Hernández's parents surmount this considerable hurdle, however, they face two more immediate barriers to their case. One is Mesa's qualified immunity. Because he was acting in his capacity as a federal officer, Mesa enjoys immunity from suit so long as his behavior was reasonable. Court's generally regard officer behavior as reasonable so long as it was not contrary to a clearly established legal precedent. Here, Mesa and the government argue that no such clearly established precedent exists holding that Mesa's actions violated the Fourth and Fifth Amendments. The parents counter that, if the Fourth and Fifth amendments do apply, there is ample precedent that Mesa's actions violated them. Moreover, they argue that the Court should evaluate the inquiry based on the information available to Mesa when he acted; he could not have known that Hernández was not a U.S. citizen, and thus possibly unprotected, when he shot and killed him.
The other issue arose on the prompting of the Court itself. When granting the parents' petition for certiorari, the Court asked the parties to brief whether a so-called Bivens remedy should be available to the parents. In most circumstances, a party needs a "cause of action" created by statute or common law to seek a particular remedy. In the 1971 case of Bivens v. Six Unknown Named Agents, however, the Supreme Court held that an "implied cause of action" existed to sue for damages for at least some federal Fourth Amendment violations when Congress has not provided any alternate remedy. The Court has been hesitant in the years since to extend Bivens, noting that in many cases "special considerations" such as national security or maintaining foreign relations counsel against allowing a private litigant to challenge particular federal actions at trial.
As has often been true, Justice Kennedy may be the key vote in the case. He has been a consistent proponent of Justice Harlan's functional analysis of extra-territorial application of the constitution, authoring both the majority opinion in Boumediene and a concurrence in Verdugo-Urquidez arguing that a functional analysis was a straighter path to the same results. But he has also been fairly hostile to Bivens actions more generally, noting in prominent cases such as Ashcroft v. Iqbal that implied causes of action are heavily "disfavored." Whether the Justices are tipping their hand by requesting the additional briefing remains to be seen, but with passions running so high, a substantial section of the U.S. population is likely to be angered no matter what the result.
McLane Co. v. EEOC
No. 15-1248; 9th Cir.
McClane Co. v. EEOC presents a problem not often encountered in the legal world, let alone in cases before the Supreme Court: What do you do when everyone agrees? Indeed, the case centers on a procedural detail about which the petitioners, the respondent agency, two sets of amici, and eight other circuits are all in accord. Even the court below described the logic behind its deviating precedent as "unclear" and inconsistent with its law in similar contexts. But what might seem like an open-and-shut case could result in an upset thanks to the creative legal wrangling of one Washington litigator appointed to make the arguments no one else would.
The case is rooted in the decision of McLane Co., a consumer good wholesaler, to fire employee Damiana Ochoa after she was thrice unable to pass a strength test when attempting to return from maternity leave. Ochoa contacted her local Equal Employment Opportunity Commission (EEOC) office alleging that McLane had discriminated against her on account of her sex. Ochoa's complaint stated that McLane administered the test to "all employees returning to work from a medical leave and all new hires, regardless of job position." Based on this information, the EEOC on its own accord filed a second complaint for disability discrimination. It then sent McLane a letter requesting a range of "pedigree" information about employees who had taken the test, including their names, birthdates, social security numbers, contact information, reason for taking the test, score on the test, any relevant medical conditions, and any adverse employment action McLane took based on test performance. In response, McLane provided only a database that identified employees by number and included their gender and whether they passed the test. The EEOC issued a subpoena for the remaining information and sought enforcement in federal district court when McLane refused to comply.
The district court found that the EEOC had the legal authority to seek information only on Ochoa's sex discrimination charge and not the Commission's own disability-related complaint. It therefore denied enforcement of whole subpoena, derisively describing the Commission's tactics as "trolling for possible complainants." The EEOC appealed, and on review, the Ninth Circuit reversed. In doing so, the court reviewed the validity of the EEOC subpoena de novo, meaning that it reconsidered the merits of the entire claim without any deference to the district court's conclusions. Eight other circuits review such subpoenas under the much more deferential "abuse of discretion" standard, under which a district court's conclusions are upheld absent some egregious fault. The Ninth Circuit itself expressed puzzlement about its outlier rule in a footnote, observing that it employs the abuse of discretion standard when reviewing many other types of administrative subpoena.
Now before the Supreme Court, both McLane and the EEOC agree that the abuse of discretion standard was appropriate (though the EEOC maintains that the district court's order should be reversed in any event). With none of the parties willing to defend the Ninth Circuit's rule, the Court appointed Stephen B. Kinnaird of mega-firm Paul Hastings's Washington D.C. office to do the job. Kinnaird has attacked the issue from an unusual angle, bringing the argument back to first principles. An agency subpoena is a constructive government search under the Fourth Amendment, he contends. As such, the reasonableness of that search is the kind of purely legal question appeals courts are obliged to decide in the first instance, he reasons, just as they evaluate a search for evidence in a criminal investigation.
With the vast weight of authority stacked against him, Kinnaird undoubtedly faces an uphill battle to win the Court over. But he has teed-up an excellent opportunity for any Justices unhappy with the long reach of the modern administrative state. What began as a simple information request could alter how the American legal system thinks of agency subpoenas.
February 22
---
Kindred Nursing Centers Limited Partnership v. Clark
No. 16-31; Ky.
This case is a dispute over whether the Federal Arbitration Act ("FAA") preempts a Kentucky contract rule that requires a power of attorney to expressly refer to arbitration agreements before the attorney-in-fact can enter his or her principal into a binding arbitration agreement. The two Respondents in this case are surviving relatives who had power of attorney of two people who resided at Kindred Nursing Centers. After the two residents passed away, Respondents sued Kindred in Kentucky state court, alleging wrongful death, personal injury, and nursing home abuse. Based on an arbitration agreement that Respondents had signed on behalf of their respective relative-resident before the relative entered Kindred, Kindred moved to have the dispute resolved through arbitration rather than in court.
Originally, the trial court dismissed each lawsuit so that the disputes could be settled in arbitration pursuant to the arbitration agreements, but after Respondents moved for reconsideration, the trial court held that the arbitration agreements were unenforceable because Respondents did not have authority to enter into an agreement binding their principals to arbitration. Petitioners appealed the decision to the Kentucky Court of Appeals, but that court agreed with the trial court's decision that Respondents lacked authority to bind their principals to arbitration agreements. Petitioners applied to the Kentucky Supreme Court for relief, but that court denied the relief sought. The state high court held that for a power of attorney to give an attorney-in-fact the power to bind the principal to arbitration agreements, it had to explicitly state that it authorized the attorney-in-fact to enter such binding agreements—a general power of attorney could not bestow this authority on an attorney-in-fact no matter how broad its coverage if it did not explicitly refer to arbitration agreements. The court also rejected the idea that § 2 of the FAA preempted Kentucky's rule requiring a power of attorney to contain express reference to arbitration agreements in order to give attorneys-in-fact authority to bind principals to such agreements.
Kindred petitioned for a writ of certiorari, which the United States Supreme Court granted. The question before the high court in this case is whether § 2 of the FAA preempts Kentucky's rule that requires a power of attorney to expressly refer to arbitration agreements before the attorney-in-fact can enter his or her principal into a binding arbitration agreement.
Kindred argues that the FAA indeed preempts Kentucky's rule because the rule singles out arbitration agreements for negative treatment; it is not a rule that is generally applicable to any contractual provision. Such disparate treatment of arbitration provisions compared to other contractual provisions is not allowed under the FAA, contends Kindred, and because Kentucky's rule does exactly this by requiring that arbitration agreements be expressly referenced in a power of attorney while not requiring as much of other agreements, Kindred argues that the FAA preempts Kentucky's rule. Kindred contends that if the Kentucky Supreme Court's ruling were allowed to stand, it would allow states to create rules and laws that frustrated the enforcement of arbitration agreements, something that Kindred states is contrary to United States Supreme Court precedent. Finally, Kindred responds to an argument that Respondents made during the petition stage—that the FAA did not even apply to this dispute, because the FAA, in Respondents' view, applies only to disputes regarding the validity of an arbitration agreement, whereas Respondents view the dispute in this case as one of contract formation, according to Kindred. Kindred rejects this view of the dispute, maintaining that the issue was not a contract formation dispute and that the Respondents could not avoid the FAA's applicability and preemption by framing the issue as a contract formation dispute.
Respondents view this case in a very different light. They see it as one of contract formation, and they view the Kentucky Supreme Court's decision as one based in a determination of what powers the principals intended to grant their representing attorneys through the power of attorney. Because the Kentucky Constitution treats the right to a jury trial as a significant right, Respondents argue that the Kentucky Supreme Court believed that without an express statement of intent to give an attorney-in-fact the power to bind a principal to an arbitration agreement, a power of attorney should not be read to give such authority, because a person likely would not intend to give away such a valuable right. Thus, because Respondents view this issue as one of contract formation, they argue that the FAA's preemption provision does not apply. Further, they contend that Kindred's interpretation of the FAA would violate the separation of powers doctrine because it would impermissibly require a state court to make an inference—that a power of attorney included the authority to bind a principal to an arbitration agreement—that was not reasonably supported by facts in Respondents' opinion. Finally, Respondents argue that if the United States Supreme Court were to apply the FAA's preemption provision here, that would set a bad precedent that would begin federalizing the state law area of agency in order to give unwarranted deference to federal policy considerations.
The outcome of this case would likely be limited to arbitration agreements in contracts, but that in itself could have broad effects, given how common such agreements are. If Kindred wins, the decision will likely strengthen arbitration agreement provisions by further restricting state law regulation and prohibition of the agreements. A decision in the Respondents' favor would allow states to regulate arbitration agreements more, which could result in the unenforceability or nullification of those agreements.
February 27
---
Packingham v. North Carolina
No. 15-1194; N.C.
The law's struggle to keep pace with rapidly developing technology has been a constant theme before the Supreme Court in recent years. From the Fourth Amendment's application to the search of a cellphone in Riley v. California to the scope of the First Amendment's protection for video games in Brown v. Entertainment Merchants Association, the Court has repeatedly been called upon to adapt law that was developed for a brick and mortar world to fit our new digital society. Such is again the case in Packingham v. North Carolina. Like 2015's Elonis v. United States, Packingham centers on the extent to which the use of social media qualifies as "speech" protected by the First Amendment.
In 2002, Petitioner Lester Packingham pled guilty in North Carolina state court to Taking Indecent Liberties with a Child after the then-21-year-old college student was indicted for having sex with a 13-year-old. Packingham's sentence was suspended in favor of supervised probation, and he was required to register as a sex offender. Packingham completed his probation successfully, but was arrested in 2010 after a local police officer found that he had made a post on Facebook exclaiming that "God is good!" after he had a traffic ticket dismissed. Under a provision of North Carolina law referred to in court documents as Section 202.5, individuals on the sex offender registry are prohibited from accessing commercial social networking sites that may be frequented by minors. After he unsuccessfully attempted to dismiss the charges as violating the First Amendment, a jury convicted Packingham of violating Section 202.5.
On appeal, the North Carolina Court of Appeals unanimously overturned Packingham's conviction as violating the First Amendment, holding that Section 202.5 prohibited "an enormous amount of expressive activity on the internet." A divided North Carolina Supreme Court reversed, however. The court held that Section 202.5 did not solely target expressive aspects of social media, but also the gathering of information on minors through social media. As such, Section 202.5 was either a regulation of conduct that incidentally burdened speech, or, alternately, a content neutral "time, place, or manner" regulation on expression. Under either characterization the law is subject to a less stringent level of judicial scrutiny.
Now before the United States Supreme Court, Packingham argues that the North Carolina Supreme Court misinterpreted legal precedent on what constitutes expression under the First Amendment. The Court has in the past extended First Amendment protections not only to affirmative speech, he contends, but also the right to access the speech of others. "When a citizen reads about the President's budget proposals in a public library," he argues, "she is engaged in activity protected under the Free Speech Clause, even though she may never utter a word and even though the librarian would shush her if she did." Section 202.5 cannot therefore be characterized as regulating conduct, he concludes. North Carolina counters that, even if this is so, the law should survive the intermediate level of scrutiny the Court applies to content-neutral time, place, and manner regulations because it is as narrowly tailored as practical to serve the State's important interest in protecting minors from sexual predators.
The case raises several sub-issues that may be of particular note to the broader field of First Amendment law. One is the appropriate level of scrutiny applied to a state's "preventative" laws that criminalize potentially expressive conduct not for its own harmful effects, but for the potential harms it might facilitate. Packingham argues that the Court should treat Section 202.5 as regulating expression on its face, as the only reason accessing social networking sites is criminalized is to prevent the expression that could ensue. North Carolina responds that the Court has often treated such preventative measures as conduct restrictions, pointing to cases that considered "buffer zones" around abortion clinics and other zoning regulations. Packingham also contends that the policy rationales that underlie the Court's typical use of "intermediate" scrutiny of time, place, and manner restrictions simply do not apply here. Traditionally, these regulations were motivated by the necessity of accommodating individual's competing rights, he argues, quoting language from previous cases stating that "[t]wo parades cannot march on the same street simultaneously." Because accessing social networking sites does not inherently interfere with any other individual's rights, Section 202.5 should be subject to a higher level of scrutiny, he concludes.
The law moves much slower than innovation, and it often lags behind both technical realities and society's' changing expectations. Cases like Packingham afford the Court a chance to make up some of this ground, fitting the legal systems enduring values into exciting new environments.
Esquivel-Quintana v. Sessions
No. 16-54; 6th Cir.
In case this administration's immigration policy wasn't under enough of a microscope, this case will certainly bring more immigration issues to light.  Juan Esquivel-Quintana is a Mexican citizen and has been a lawful permanent resident of the United States since he was twelve years old.  When he was twenty years old, he had sexual intercourse with his sixteen-year-old girlfriend.  In forty-three states and the District of Columbia, his conduct does not amount to having committed a crime. In California, however, Mr. Esquivel-Quintana was guilty of violating the criminal code that prohibits anyone from having sex with a minor if the age difference is more than three years.  Because of this conviction, Mr. Esquivel-Quintana faced deportation proceedings.
The Immigration and Nationality Act ("INA") provides for removal of aliens if they have been convicted of certain crimes, and are therefore deemed by Congress to be contrary to public safety and welfare.  Someone facing deportation can appeal for discretionary relief, but not if he has been convicted of an "aggravated felony."  An aggravated felony is defined to include murder, rape, or sexual abuse of a minor.
In fighting his deportation proceedings, Mr. Esquivel-Quintana found that both the immigration judge and the Board of Immigration Appeals ("BIA") determined that his conviction of having sex with a minor more than three years younger than he constituted an aggravated felony.  Both institutions held that it was sexual abuse of a minor, and because of that finding Mr. Esquivel-Quintana was ineligible for discretionary relief and mandatory deportation was required.  Mr. Esquivel-Quintana petitioned the Sixth Circuit for review of the BIA's decision but his petition was denied based on the Circuit's application of Chevron deference, relying in particular on a footnote from a Supreme Court case.  The Circuit noted that Congress's failure to define "sexual abuse of a minor" required the BIA to adopt a case-by-case adjudication, and deference is therefore required if it is reasonable.
One judge dissented, however, and focused on the criminal nature of the underlying issue.  Judge Sutton remarked that Chevron permits agencies to fill gaps in civil statutes but plays no role in construing criminal statutes.  Judge Sutton would have therefore applied the rule of lenity to Mr. Esquivel-Quintana's case which would have rendered judgement in his favor.
In its brief, the U.S. government has laid out a two-step analysis to demonstrate that the California conviction is an aggravated felony and categorically qualifies as sexual abuse of a minor.  Part of the government's argument includes the fact that the Sixth Circuit correctly applied Chevron deference to the situation at hand.  Mr. Esquivel-Quintana refutes each of these points by arguing the exact opposite: his conviction does not warrant being classified as an aggravated felony and the BIA's decision should not be afforded Chevron deference.
This case is one of many INA interpretation cases the Court has taken on in the past few years; but this time the case comes with an administrative law twist.  Should the justices decide in favor of Mr. Esquivel-Quintana, they will have effectively nullified the decision of the BIA, which could lead to a door opening to roll back Chevron in a way that would be music to the ears of Supreme Court-nominee Judge Gorsuch.
February 28
---
Dean v. United States
No. 15-9260; 8th Cir.
On April 15, 2013, Levon Dean and his brother Jamal robbed a drug dealer of drugs and drug paraphernalia, as well as the dealer's cell phone, car keys, and car. Nine days later, the brothers robbed another drug dealer, this time taking $300 in cash, twenty grams of methamphetamine, some electronics, and the dealer's two cars. In both robberies, Jamal used a modified .22-caliber semiautomatic rifle to threaten and beat the dealers. After being arrested and charged, Levon Dean was convicted of conspiracy to commit robbery, two counts of robbery, and two counts of possession of a firearm in furtherance of a crime of violence.
18 U.S.C. § 924(c), in relevant part, imposes a mandatory sentence upon defendants who possess or use a firearm in furtherance of a crime of violence—the sentence for the first such possession or use of a firearm is five years, and for the second such possession or use is thirty years. These mandatory sentences are imposed upon a defendant on top of the sentence imposed for the underlying offense (the crime of violence to which § 924(c) refers). Thus under § 924(c), the court, in sentencing Dean, had to impose a five-year sentence for the first count of possession of a firearm in furtherance of a crime of violence and a twenty-five-year sentence for the second count. Additionally, the court had to sentence Dean for the two counts of robbery and the conspiracy count. Because he was already going to serve a total of thirty years under the § 924(c) sentences, Dean asked the court to depart from the sentencing guidelines for the remaining counts and impose only a one-day sentence. Though the sentencing judge said that he believed that a thirty-year-and-one-day sentence would be sufficient, he interpreted Eighth Circuit precedent as not allowing him to consider the § 924(c) sentences when determining the length of the sentence for the underlying crime of violence. As such, the judge imposed a sentence of forty months in addition to the combined thirty-year § 924(c) sentences, totaling a sentence of 400 months.
Dean appealed his sentence to the Eighth Circuit, but the Eighth Circuit affirmed the sentence. After successfully petitioning for a writ of certiorari, Dean brings his case to the Supreme Court, where the question is whether a sentencing court may consider the mandatory § 924(c) sentences as a factor when determining the length of a sentence for the underlying offense.
Dean argues to begin with that the language of several statutory provisions lead to the conclusion that a sentencing court can take a § 924(c) sentence into consideration when determining the length of the sentence for the underlying offense. First, he points out that the Sentencing Reform Act instructs a sentencing court to "impose a sentence sufficient, but not greater than necessary" to accomplish the goals of sentencing laid out in 18 U.S.C. § 3553(a)(2), which Dean summarizes in his brief as "proportionality, deterrence, incapacitation, and rehabilitation." Dean argues that a judge must be able to consider a § 924(c) sentence when determining a sentence length for an underlying offense in order to impose a sentence for the underlying offense that is sufficient, but no longer than necessary, to satisfy the purposes of § 3553(a)(2). Among other arguments, Dean also contends that prohibiting the consideration of a § 924(c) sentence conflicts with 18 U.S.C. § 3661, which prohibits any limitation on the information that a court may consider concerning a defendant's "background, character, and conduct" when the court is determining an appropriate sentence length. Additionally, Dean explains that, while § 924(c) places one limitation on a court's discretion, it does not limit a sentencing court's discretion regarding the factors it considers when determining sentence length for an underlying offense.
Dean also argues that the legislative history of § 924(c) supports allowing a court to consider a § 924(c) sentence when determining an underlying offense sentence, because the legislative history shows that the court's authority to consider a § 924(c) sentence was preserved, and some legislators even noted that § 924(c) would still allow a sentencing court to suspend the sentence for the underlying offense entirely. Furthermore, Dean maintains that the rule of lenity means that any ambiguity in the relevant statutory provisions should be interpreted in his favor, meaning that a court should be allowed to consider a § 924(c) sentence. Finally, Dean contends that giving trial courts broad discretion over what information they consider when determining sentences is a longstanding American policy, and he implores the Court not to assume that Congress meant to contradict this policy when Congress has not expressly stated that it was doing so.
The United States responds by arguing first that the text of § 924(c) does not allow a judge to reduce the sentence of an underlying offense based on the imposition of a mandatory § 924(c) sentence, because the provision states that the § 924(c) sentence is to be imposed "in addition to" the sentence for the underlying offense. The United States contends that the Sentencing Reform Act backs up its interpretation of § 924(c) because it requires § 924(c) sentences to run consecutively to sentences for underlying offenses, thus divesting the authority a judge usually has to decide that sentences should run concurrently. The Government interprets this removal of authority as a broader removal of a judge's authority to consider the length of an overall sentence based on the § 3553(a)(2) factors—under the Government's interpretation, a sentencing court may consider the § 3553(a)(2) factors when determining the length of sentences for underlying offenses, but may not reduce the length of an overall sentence based on the § 3553(a)(2) factors by reducing a sentence for an underlying offense in light of a § 924(c) sentence.
Further, the United States contends that § 924(c)'s drafting history supports its arguments. The Government maintains that § 924(c)'s legislative history shows that, with the provision, Congress wanted to impose additional sentences on defendants to punish their decision to use a firearm in furtherance of a crime of violence and thus sought to remove a sentencing court's ability to use various sentencing tools to work around the imposition of an additional § 924(c) sentence. The Government's brief suggests that allowing a sentencing court to reduce a sentence for an underlying offense to offset a § 924(c) sentence would be such a workaround that would allow a sentencing court to frustrate Congress's intent to impose an additional penalty for the decision to use a firearm in furtherance of a crime of violence. Finally, among other arguments, the United States argues that the Sentencing Guidelines support its argument, and it responds to Dean's arguments regarding § 3661 and the information that a judge may consider in sentencing decisions, rejecting the way Dean argued that that provision should apply in this case.
This case could have a significant impact for criminal defendants facing § 924(c) sentences. If Dean wins, those facing such sentences may get the sentences for their underlying crimes reduced, which could get them out of jail years earlier. Lower sentences would not be guaranteed in every case, because a ruling in Dean's favor would simply give sentencing judges the discretion to consider a § 924(c) sentence when determining the length of the sentence for an underlying offense. However, for defendants facing a § 924(c) sentence, even the possibility of a shorter sentence for the underlying offense could be a life-changing possibility that provides hope for an earlier release.
March 1
---
Coventry Health Care of Missouri, Inc. v. Nevils
No. 16-149; Mo.
Another preemption dispute, this case began in 2006, when Respondent Jodie Nevils, a federal employee, was injured in a car accident. His insurance company, Coventry Health Care of Missouri, Inc., covered his medical costs, but Nevil also recovered a settlement from the driver who had caused the accident-causing injury. Because Nevil recovered money from the responsible driver in addition to the money that Coventry paid for Nevil's medical expenses, Coventry's contract with the Office of Personal Management ("OPM") required it to seek reimbursement of the money it paid for Nevil's injuries. Missouri law generally prohibits such reimbursement and subrogation, but Coventry nonetheless asserted a lien on Nevil's settlement, which Nevil satisfied by repaying Coventry the money they had paid for his medical costs. Then, however, Nevils sued Coventry, arguing that Missouri's reimbursement and subrogation prohibition meant that Coventry was not allowed to seek reimbursement as it had done.
Coventry argued that the Missouri state law reimbursement and subrogation prohibition was preempted by § 8902(m)(1) of the Federal Employees Health Benefits Act ("FEHBA"), a provision providing that "[t]he terms of any contract under this chapter which relate to the nature, provision, or extent of coverage or benefits (including payments with respect to benefits) shall supersede and preempt any State or local law . . . which relates to health insurance or plans." After the case made its way to the Missouri Supreme Court, which ruled in favor of Nevil, Coventry petitioned the United States Supreme Court for certiorari. While Coventry's writ for certiorari was pending and after a notice-and-comment period, the OPM promulgated a rule that stated in essence that state law reimbursement and subrogation prohibitions fell within the coverage of § 8902(m)(1), and were thus preempted. After this, the United States Supreme Court granted certiorari, vacated the Missouri Supreme Court's decision, and remanded the case back to the state high court to allow the Missouri Supreme Court to reexamine the case in light of the OPM's newly promulgated rule. On remand, the Missouri Supreme Court again held in favor of Nevil.
Thereafter, Coventry again petitioned for a writ of certiorari, which the United States Supreme Court granted to decide two questions: 1) whether § 8902(m)(1) of FEHBA preempts state laws that prohibit carriers from seeking reimbursement and subrogation pursuant to their contracts; and 2) whether § 8902(m)(1) violates the Supremacy Clause.
Coventry first argues that the text and purpose of § 8902(m)(1) show that the provision preempts state laws that bar FEHBA carriers from seeking subrogation and reimbursement. It points to the express preemption provision of § 8902(m)(1) and maintains that it easily covers state laws that restrict subrogation and reimbursement. It also states that preempting state laws that prohibit subrogation and reimbursement is consistent with Congress's goals for § 8902(m)(1): uniform fair administration of FEHBA plans nationwide and lower healthcare premiums. Additionally, Coventry contends that the presumption against preemption on which the Missouri Supreme Court relied does not apply to § 8902(m)(1), because § 8902(m)(1) is an express preemption provision and because the provision operates in an area implicating federal interests that has traditionally been federally regulated.
Coventry also argues that even if § 8902(m)(1)'s text and purpose do not answer the question in this case, OPM's position, which was laid out in a notice-and-comment regulation that reasonably interpreted § 8902(m)(1), is entitled to deference under Chevron. Responding to the Supremacy Clause question, Coventry contends that § 8902(m)(1) does not violate the Supremacy Clause because the statute itself, not the FEHBA contracts to which it refers, preempt state laws.
In response, Nevils first addresses the Supremacy Clause question, maintaining that § 8902(m)(1) purportedly authorizes contract clauses, rather than federal law, to preempt state law. This, he argues, violates the Supremacy Clause because under that clause, only federal laws may preempt state laws. Even if the Court declines to decide the case on those constitutional grounds, however, Nevil claims that the Court should resolve the ambiguity of the statute—the ambiguity being whether § 8902(m)(1) covers (and thus preempts) state laws prohibiting subrogation and reimbursement—in favor of the state. He argues that based on federalism principles, there is a presumption against preemption in areas traditionally regulated by the states, and that insurance is such a traditionally state-regulated area. Additionally, Nevils contends that the Court should not give Chevron deference to the OPM's interpretation of § 8902(m)(1). He claims that although agencies are given deference under Chevron when it comes to policy questions, they are typically not given deference when it comes to preemption matters. Thus, he argues that the Court should not give OPM deference here. Finally, Nevils argues that even if the Court gives Chevron deference to the OPM, OPM's interpretation of § 8902(m)(1) fails both steps of the Chevron test because tools of statutory interpretation resolve the purported ambiguity in the provision and because OPM's interpretation is unreasonable.
The outcome of this case could have several different effects. If the Court decides it in Nevil's favor, Nevil and others that face similar situations where they get medical expenses paid for by an insurance company and also recover money in a settlement or litigation could end up profiting from the decision quite literally, as they may be paid for their medical expenses twice. Of course, such a decision would conversely negatively affect insurance companies who would be unable to seek reimbursement from a third party for expenses paid to an insured. Turning to the broader effects, a decision in Coventry's favor would promote the goal of uniformity across state lines in the health insurance market for federal employees under FEHBA, and allowing insurance companies to seek reimbursement may result in lower insurance costs passed on to the employees, the federal government, and ultimately, the taxpayers. However, if the Court agrees with Nevil, such a decision may serve to protect federalism interests by giving states more authority to regulate the health insurance market within their borders. Broader effects aside though, both parties will anxiously await the Court's decision after they give their arguments, undoubtedly ready to end this case after years of protracted litigation and over a decade after the accident that started it all.
This post was authored by The George Washington Law Review Online Editorial Team.